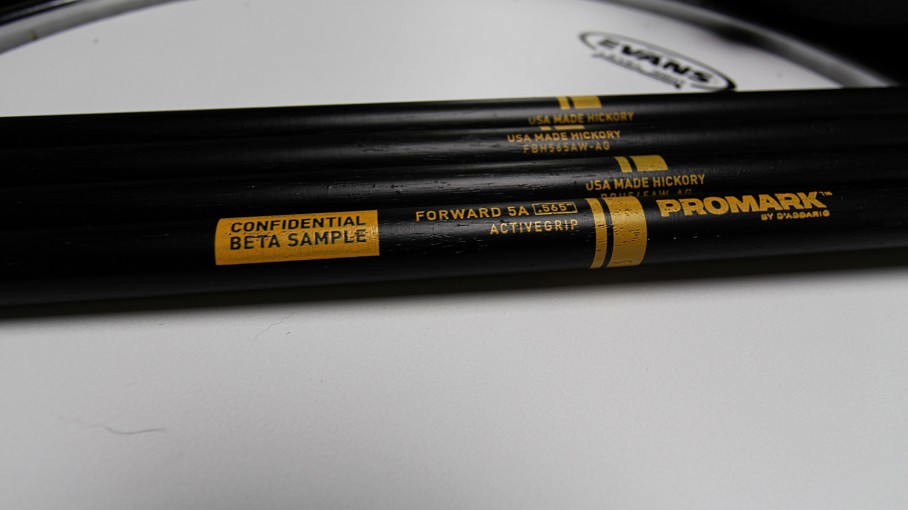 Exclusive review of Promark's
New Active Grip
This week we take a look behind the scenes and review something new straight out of NAMM 2016, Promarks new "Active Grip" drumsticks. Regardless of whatever drumstick company you choose to use, it's great to see drumstick manufacturers pushing the envelope in efforts to make the playing experience of the user better. Drumsticks are arguably one of the most individualized pieces of drum gear we can use as drummers. After all, they are an extension of ourselves.
At this year's NAMM show, Promark took it upon themselves to tackle an issue that has plagued drummers for ages. That being, "drumstick grip". We've all been there before. You're playing a show, the adrenaline is flowing, as a result  your hands start to sweat. Your grip starts to get slippery and you can't wait for the song to be over so you can wipe your hands down on your thigh or towel. Conventional solutions have included wrapping the sticks, adding grip handles, or even using gloves which never seem to feel natural. With Promarks innovative "Active Grip" it seems like they have found a solution to the problem. I took it upon myself to try these out first hand to see how they respond in a real world application.
What is "Active Grip"?
Active grip refers to the black coating on the sticks. It's heat activated and gets tackier as your hands heat up and begin to sweat, essentially eliminating the need for conventional solutions.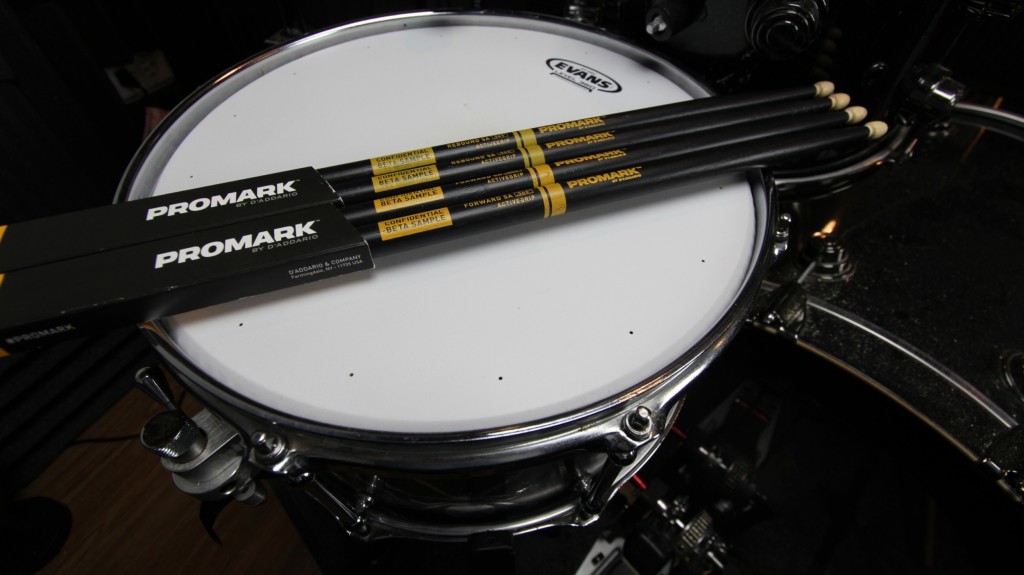 My first Impressions:
Aesthetically the sticks look great! All black, accented with yellow coloring bearing Promarks recognizable trademark. I was intrigued by the idea of a heat activated grip, however I was a bit skeptical. My concerns before trying them was that the coating on the stick would potentially heat up and get so tackie that the stick would get stuck in my hands. I also assumed the coating on the stick would be too thick and would simply not feel "natural". I also noticed that these sticks had an "acorn tip", which was something new for Promark.
The Test Drive:
I was very Surprised! After picking up a pair of Promark's Active Grip sticks for the first time I quickly realized that there wasn't a big difference in the way the stick felt in my hand. The black active grip coating is so thin that it really was a non-issue for me. After trying them on a practice pad I also realized that the sticks weren't overly tackie, which is something I was worried about. I could tell that I had a better grip on the stick, but wasn't so over the top that it didn't feel natural. I dug it!
On the Kit:
Everything I previously noticed about the sticks translated over to the kit nicely. The sticks didn't change the way things felt on the kit. As I continued to play around the kit I noticed that I got additional grip and control from the stick. I also noticed I was able to relax my grip more than usual as there was a sense of security with the active grip. I tried both their forward balance and rebound versions and noticed no difference in the way the active grip responded.
The Verdict?
Promark definitely delivered. You have to try them! New gear comes out every year. Often times it's a new spin on something old and even gimmicky. But I gotta tell you, Promarks innovative "active grip" is a game changer! They have eliminated the need to add grips or tape to your drumsticks which completely changes the weight and feel of the drumstick. It's something that has been missing in the drumstick market forever. Promark will be releasing their "Active Grip" drum sticks in April 2016.Trust me when I tell you, you've got to try them and I cannot wait for them to be released to the public.
Support the Drumming Community! Follow and Share